This is the first part of a longer and more intimate blog about our experience in Belfast, so keep you eyes opened for the next part!
But for now, I will share this amazing deeply written with so much care article by Allan LEONARD for Shared Future News. READ the whole article here:
https://sharedfuture.news/2018/09/21/transforming-memories-of-war-into-memories-of-peace-imagine-peace-grweek18/
Imagine Peace: An exhibition that emphasises the power of photography as a tool to create a culture of hope to reach what they have been longing for: to live in peace. We were so honoured and thrilled to be invited to exhibited at the established and renown gallery Belfast Exposed alongside recognised international photographers but most of all, in the home of the archive of the Troubles that the gallery hosts. It was formed 30 years by activist photographers as collaborative project to create an archive of the conflict. We were invited as part of Good Relations Week, myself and Antonio Amador with our Colombian peacebuilding subjects to show a retrospection of 2 years of work showing both our individual and collaborative efforts, in several sections.
What is Imagine Peace?
As Patricia says, inspire by Yoko Ono, "We – Colombians – need to leave behind that habit of thinking about our country in terms of war. We will need to use the best of our imagination to build a country in peace"
©AntonioAmador_ Zapato performance for the killings of social leaders in Colombia_Barcelona 2018
Our project emerged from the urgency to witness and accompany various peace initiatives led by civil society: collectives such as Paz a la Calle and Imaginarios Desarmados, community leaders, ex-combattants, victims and their families, human rights defenders, activists, artists, students, trade unions, women groups, indigenous, afro-descendants and the rural sector among others.
As Northern Ireland celebrates 20 years of its peace agreement, Colombia is currently experiencing one of the most significant peace processes in the world, both in terms of the conflict duration and the extent of violence suffered by its people. This historical moment is giving Colombia the opportunity to start building a collective memory of a country in peace and addressing the legacies of its violent past while achieving change in mentality and consciousness of its society. Colombia is now facing two very distinctive realities: the awakening of its people who, for the first time in history, had a left-wing, ex-combattant president candidate in the second round of the presidential election last June, while the of killings of community leaders dramatically carry on, leaving a divided but engaged and committed civil society. How we, Colombians and Irish can learn from each other's experiences and challenges and create sustainable lasting peace and reconciliation?
Our artistic collaboration started in Barcelona with the Truth, Memory and Reconciliation Commission of Colombian Women in the Diaspora (TMRC) supported by Conciliation Resources, an independent peacebuilding organization. This led them to work with other collectives such as Paz a la calle and The Collective of Colombian Exiled, Migrants and Refugee Women of Spain in the frame of the participatory project "Cuerpos Gramaticales", a public sowing of women as a symbolic act of healing, organised by the International Catalan Institute for Peace (ICIP) and Agroarte, a local based organisation from Medellin in which the two women's collectives took part.
Both feminist initiatives work with the Colombian women's diaspora to visibilize their voices and role in the peace process and in the construction of the historical memory of Colombia towards women's empowerment, integration in their host countries, reconciliation, healing and justice.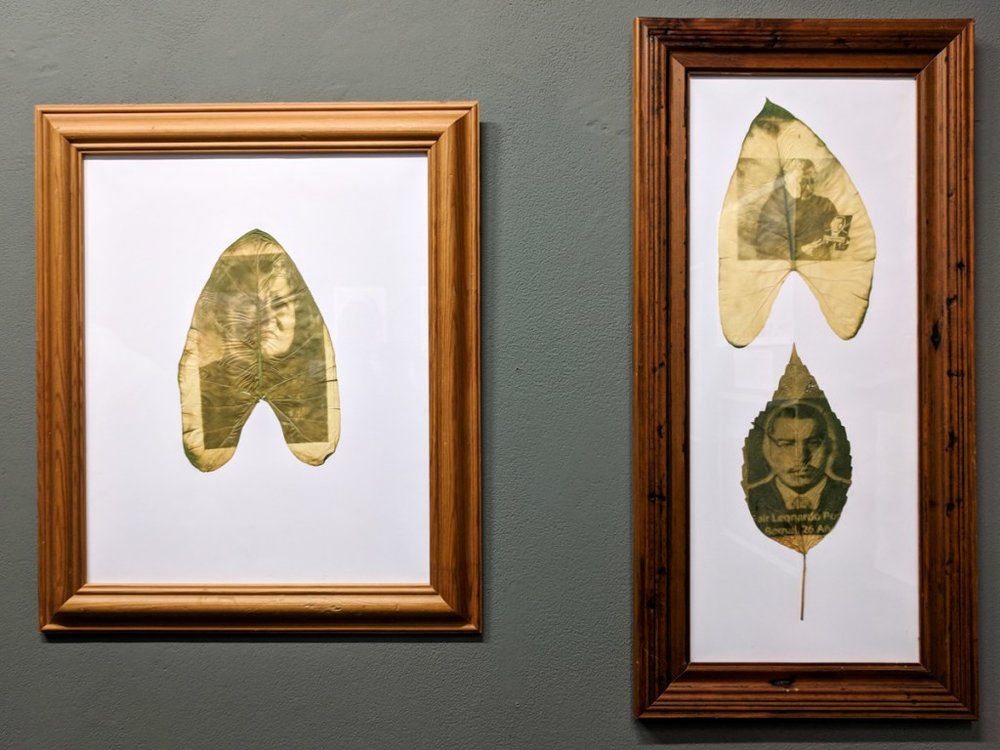 The magics of life
Antonio was Helga's favourite student when in Colombia 20 years, Helga is the founder of the Truth, Memory and Reconciliation Commission of Colombian Women in the Diaspora (TMRC) and the angle to opened me the door to new horizons. We met and never stopped working together since then! He gave up his fashion photography to focus on what he is passion about: People,Activism, Feminism, Colombia, Peace, Stories and Change. He gave me an overdosis of creativity and influenced my photography practice.
Chlorophylle printing of Luz Marina Bernal from the Mothers of Soacha
He is Colombian, I am not Colombia, but we are both migrants living in Europe.We both have a passion for experimenting and discovering new ways of presenting images.
This combination has been the most fruitful creative and artistic collaboration in terms of representing our subjects and the subject matter in an objective, neutral but quite direct, honest and activist way as it generates long hours of debate, analysis, agreeing and disagreeing, choosing the right word, the right sentence, the right image, colour or black and white, discuss how the image would impact on the women we represent, do we show it or not? How do we talk about the conflict and about peace?
Selection of personal objects and memories from the women of the Truth, Memory and Reconciliation Commission of Colombian Women in the Diaspora (TMRC)
How did we end up in Belfast?
Beyond Skin, a NGO using art for peacebuilding in Northern Ireland invited us as part of the #FUTyoURES creative Peace programme aimed at developing a shared creative model for conflict transformation in Colombia & Northern Ireland. At the heart of the project are the Arts affirming the synergy between People and the Natural Environment around them. The #FUTyoURES programme is the collaborative brainchild of the organisations Beyond Skin (Northern Ireland) & Escuelas de Paz (Colombia).  The focus of the project delivery is in Arauca & Soacha (Colombia) and Belfast, Craigavon, Keady & Cookstown (Northern Ireland).
"It's happening? No it is not happening. And yet, there is something that is to come. In the wait, any arrival contains and abandons.

So is it happening? Yes it is happening and it has come already."

– Maurice Blanchot