Hunger and Malnutrition in Senegal Participatory Photography and Video in Touba Seras

 
"It helped me understand our roles as community leaders. This will help improve how we work together" 
In July 2022, rather than parachuting external photographer and videographer to gather communication materials for their fundraising appeal, Action Against Hunger UK decided to shift the power of the narratives and invited ten people from Touba Seras, a village in northern Senegal to take part in a unique participatory media project to document the high incidence of hunger and malnutrition affecting their community with increased frequency and severity.
The group created a powerful collection of photographs and video footage that captures the lives of a community facing hunger and hunger-related diseases on a daily basis, and their unified efforts to support and guide one another to a healthier and more secure future. They took this opportunity to present the solutions they have put in place and highlight the additional support needed to continue and deepen their responses. 
A community documents its issues and their resilience
Ten community members and activists – volunteers providing advice and support to families struggling to provide food for their children, volunteers working to direct people to support and medical services, and organisers of a community-led healthcare cooperative – dedicated 10 consecutive days to collectively reflect on the issues that their community facs and highlighted their own resilience. The purpose was to enable those with personal experience of hunger and malnutrition to document the situation themselves; taking control of how the issues are presented and the people represented to the charity's supporters and donors. 
Learning audiovisual techniques
The participants learnt to use photography and video cameras through a variety of games and exercises that support rapid development of technical skills and visual literacy in a fun and supportive environment. For most of the participants, this was the first time to hold or operate cameras. During two intensive weeks of workshop and image creation, the group collectively determined how to represent their community and how to communicate the challenging issues surrounding hunger and malnutrition. They created a community map which they used to track the village's development over time, and identify key places and resources that affect their ability to provide food and sustenance for their families. 
"Taking a picture of someone comes with responsibilities. I learned the importance of consent and the transparency needed with the community to have a dialogue about the project." 
"I learned more about my community and rediscovered my neighbourhood. I began to see everyday things from a different perspective. It helped me understand how to improve access to the health centre for vulnerable children and families" 
Images of hope, messages of need

 
The pictures document: women's cooperatives preparing nutritious cereal products, senior women (known as 'elder aunties') providing informal support to children and pregnant women (before, during and after pregnancy), families nurturing rare citrus trees in the sun-baked dusty soil, grandmothers supporting entire families, a local nurse caring for those affected by malnutrition, a cooperative reducing medical costs for members by 80%, children who have been supported through periods of severe malnutrition by community members, and teams of women (known as 'relays') who monitor, encourage and support families to attend the medical centre. 
.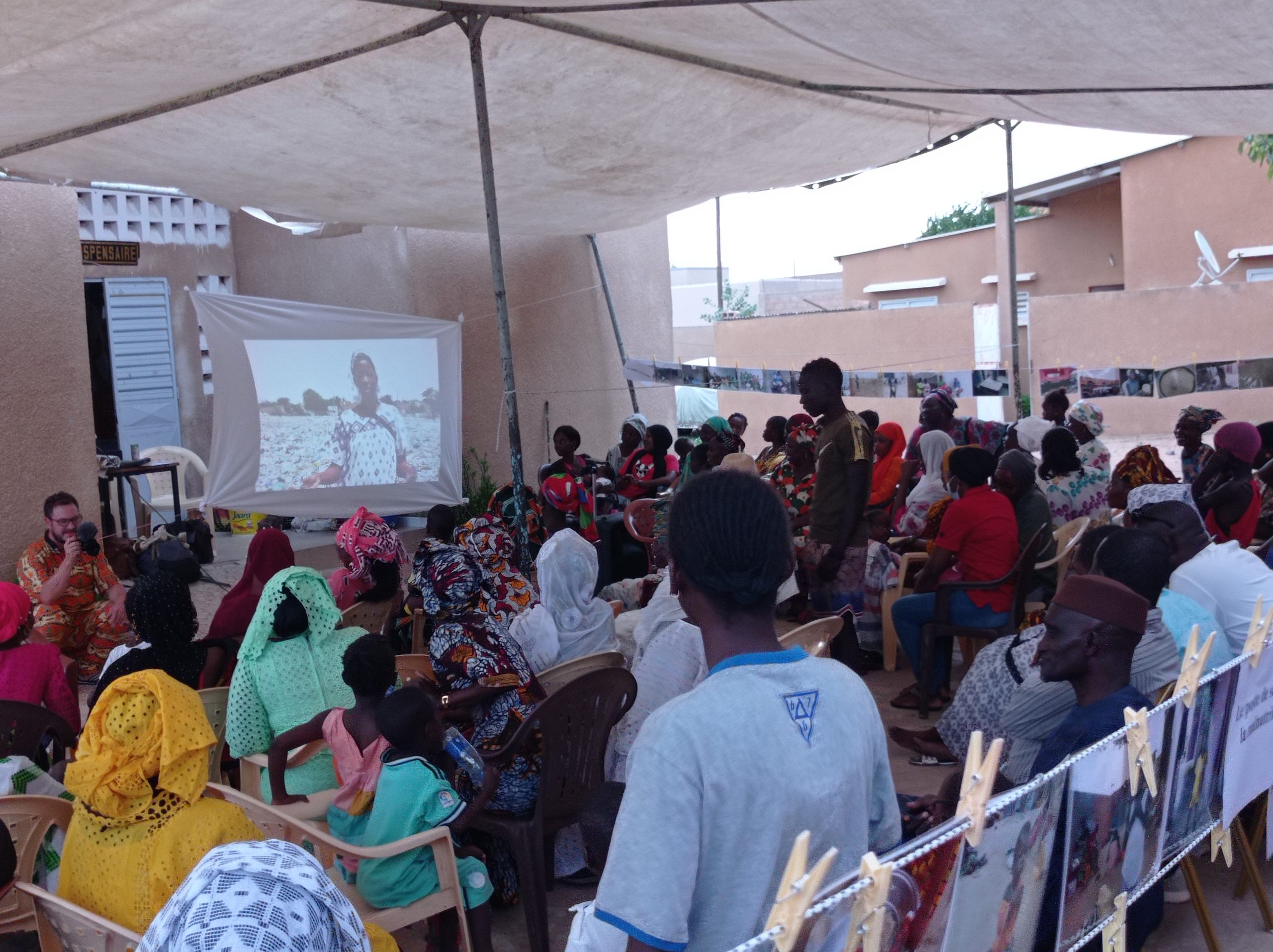 Amplifying the messages
The participants carefully selected the photographs they want to share, crafting a range of unique and intimate photo stories. They dictated text captions to describe the content and background of the images, helping the viewer to get a deeper understanding of the people and issues depicted. Similarly, the group worked together to carefully select video clips that carry the messages they wish to be heard by audiences around the world, which have been edited together to create a moving picture of life on the frontlines of hunger and malnutrition in the Sahel Region. Around 100 of the selected images were printed in the nearby town and exhibited at the village medical centre, the participants took over the show and invited everyone in their commuinty with great pride and sense of achievement.
The photographs and video will now be shared again by AAH and its partners. The charity hopes to use them for awareness-raising in various forms and to support its fundraising efforts in future appeals. Meanwhile, Action Contre la Faim Senegal will continue to engage with the people of Touba Seras through its ongoing programs.
SEE SOME STORIES AND PICTURES HERE: