"I have heard that they are going to demolish the shopping centre and those who have premises here are going to vanish. The Latin American places are going to disappear and that's a little worrying. Where are we Latin Americans going to go?"
— Zulma
Team:
Ingrid Guyon (Facilitator, Project design, Exhibition curation), David Kendall.
Partners:
Language:
Spanish/English
Location:
Elephant and Castle, London, UK
"Elephant and Castle is the meeting point of Latin Americans in London

"
'MY LATIN ELEPHANT' EXHIBITION DOSSIER
In the summer of 2015 Fotosynthesis was commissioned by Latin Elephant to co-design and co-deliver a pilot project in Spanish with Insightshare using Participatory Video and Participatory Photography.
The project aimed to
– Actively engage the local Latin Americans living, working and meeting in Elephant and Castle, the London Latin Quarter and provide local insights to inform and reflect on the current urban regeneration that will affect the local businesses and communities.
– Explore the past, present and future of the Latin American communities in Elephant and Castle.
– Give them a voice and involve Latin Americans in the regeneration process and present their views for the future Latin Quarter.
– Increase integration community cohesion and leadership within the Latin American community.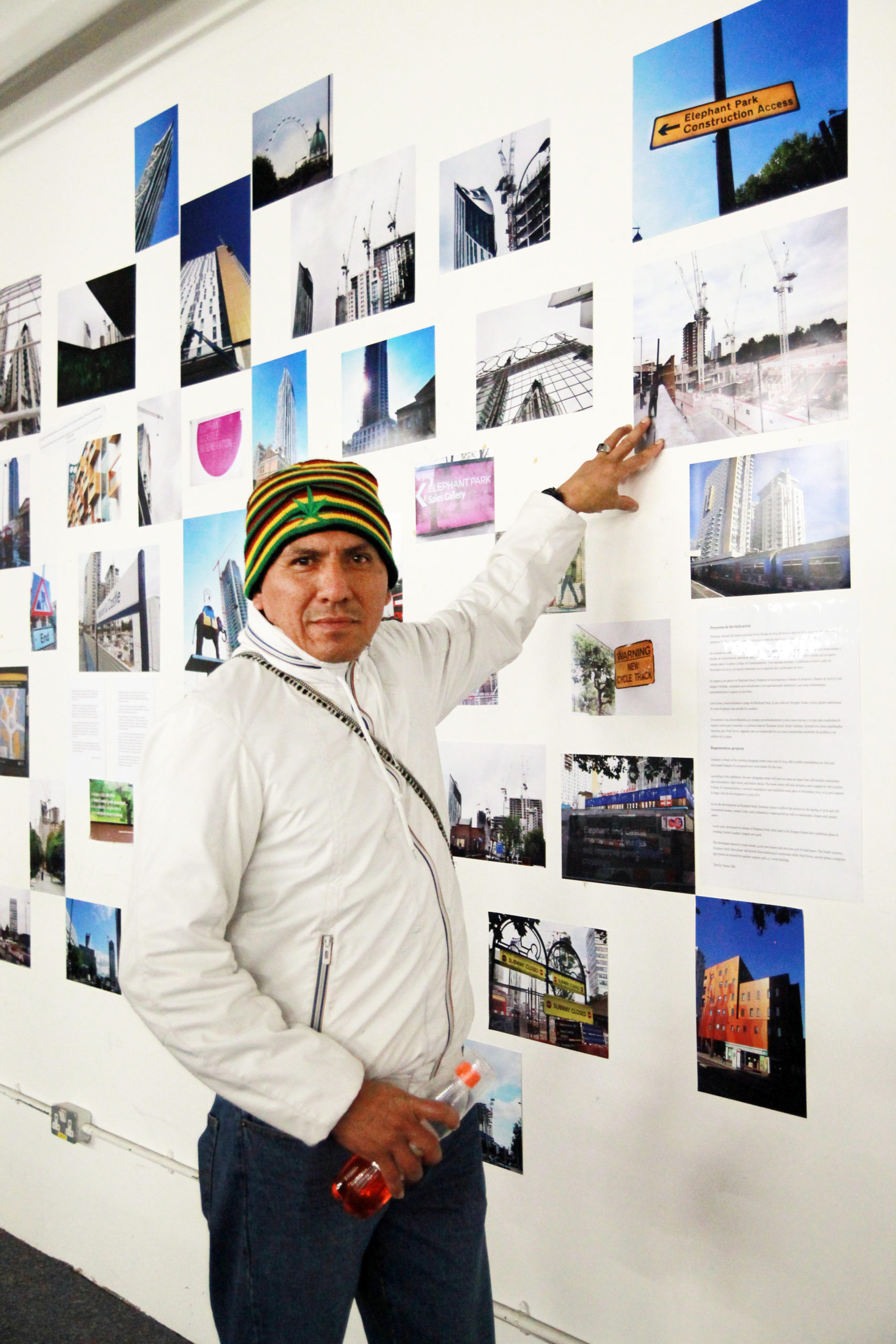 The team of participants came from diverse backgrounds and countries and consulted dozens of others through video and photography over 6 weeks.They are now curating an exhibition that will include a video and photos.
Elephant and Castle (EC) in the borough of Southwark is home to one of the largest Latin American business clusters in London, comprising of more than 100 small inter-independent Latin American run businesses. Latin Americans make up 8.9% of the population in Southwark. Latin American retailers started setting up businesses in the EC at the beginning of the 1990s and over the last 23 years have transformed the area into a vibrant Latin place in London. Elephant and Castle is meeting point  or many Latin Americans in London. "The exhibition uncovered multiple voices and experiences about the contribution of Latin Americans to the area and what it means to live under intense urban regeneration in Elephant and Castle.The transformations in Elephant's urban fabric presents uncertainty, fears and hopes for those who live, work and visit the area. Urban regeneration brings challenges and possibilities to different migrant and ethnic groups in the area and in particular to Latin Americans. " (Patria Roman Chair of Latin Elephant)
Latin Elephant is a charity that promotes alternative and innovative ways of engaging and incorportating migrant and ethnic groups in urban regeneration processes in London. We work with Latin Americans to increase their participation, inclusion and sense of belonging in the areas in which they live. You can learn more about this through Latin Elephant: http://latinelephant.org/
Read more about Latin Elephant Report  HERE.
"Being Latin in Elephant means many things to different people and the degree of identification, or not, with the place varies enormously. There is not one way of representing it and it is not our intention to do so"
— Patria Roman
WATCH THE SHORT PARTICIPATORY FILM